Search our current career opportunities!
Atrius Health, an innovative healthcare leader, delivers an effective system of connected care for more than 690,000 adult and pediatric patients at 30 medical practice locations in eastern Massachusetts.
Atrius Health's 645 physicians and primary care providers, along with 420 additional clinicians, work in close collaboration with hospital partners, community specialists and skilled nursing facilities. Our vision is to transform care to improve lives.
Atrius Health provides high-quality, patient-centered, coordinated, cost effective care to every patient we serve. By establishing a solid foundation of shared decision making, understanding and trust with each of its patients, Atrius Health enhances their health and enriches their lives.
Atrius Health is part of Optum, a health services company focused on building the leading value-based care system in the country.
Unique Aspects of Our Practice
80 years of providing outstanding care for patients in our communities in Eastern Massachusetts.
Largest, independent non-profit medical group in Massachusetts.
Strong primary care foundation, with over 50% of our clinicians practicing primary care. We invest in practice supports and resources to help our patients stay healthy.
Nationally-recognized as a value-based care leader, with over 80% of revenues from risk-based contracts.
Early adopter of electronic health records, population health and data analytics.
Veteran Epic client for over 25 years – first to adopt in Massachusetts.
First ambulatory-only practice nationally to be recognized as HIMSS Level 7, the highest level of health information technology usage.
First in Massachusetts to offer shared medical appointments.
First in Massachusetts to offer one-day outpatient joint replacement surgery for selected patients.
Collaboration with Medically Home to provide hospital-level care in the home.
Organizational commitment to teaching and research activities.
Unique collaboration with Blue Cross Blue Shield of Massachusetts to improve the patient experience.
Sole allied member of The Permanente Federation, allowing our practice to learn from and share with the medical groups that are part of Kaiser HealthCare.
Strategic affiliation with Firefly Health.
Partner with Verily, an Alphabet, Inc. company, to better manage patients with heart failure.
Christopher Andreoli, MD, MBA
Chief Executive Officer
When you understand the legacy of the medical groups that comprise Atrius Health, it is easy to see why Atrius Health has become a healthcare leader nationally.
Our roots in the community run deep.  Many of our patients and their families have seen our providers across multiple generations. They know firsthand that we are committed to designing and delivering outstanding quality care that is affordable, evidence-based, and connected to the community under a financial model that allows resources to be utilized to keep patients healthier
Atrius Health was created in 2004-2005 by a few medical groups, including Dedham Medical Associates, Granite Medical Group, and Harvard Vanguard Medical Associates, that wanted to work together on improving quality, increasing the use of electronic medical records, and managing care. These three organizations, known for their high-level of quality and commitment to their patients, wanted to work together to build a better model for care delivery and clinical collaboration.  In 2015, these three medical groups joined together to become Atrius Health, and PMG Physician Associates joined in 2017. VNA Care, our home health and hospice subsidiary, joined in 2013 and is the oldest VNA in the nation.
Atrius Health and its predecessors have consistently forged the future of medicine by passionately searching for ways to better care for all patients. Our focus is and has always been on providing evidence-based medicine that improves our patients' lives and on prevention.
Dr. Lopez was a practicing physician for 36 years at our Harvard Vanguard Medford practice and held numerous leadership positions over the years. He retired in July, 2018 and in 2019, received the Massachusetts Medical Society Lifetime Achievement Award.
Our Mission, Vision & Values
Mission
We provide the right care with kindness and compassion every day for every person we serve.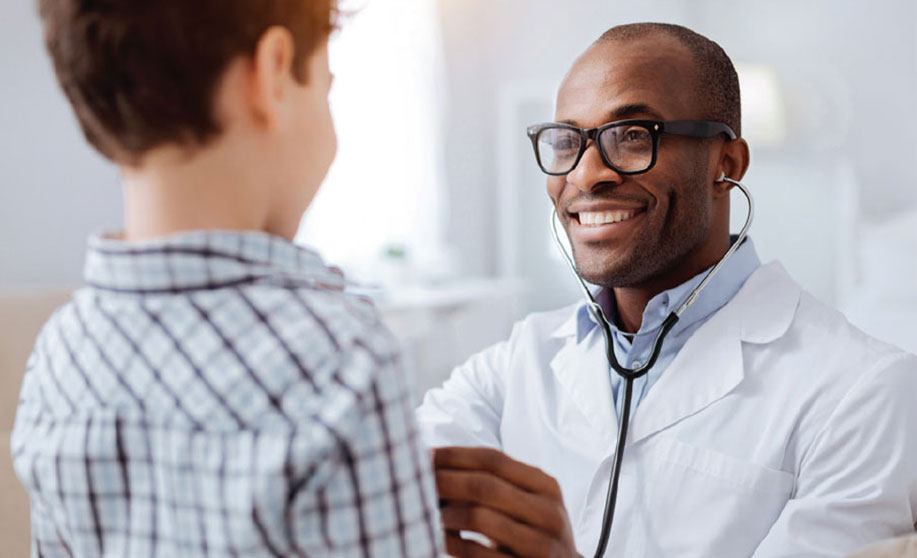 Vision
Transforming care to improve lives.
Values
Patient-centered care – the patient is first in everything we do.
Quality – we are passionate about consistently delivering the highest level of safe, timely and appropriate care.
Compassion – we treat our patients, their families and each other with understanding, respect and empathy.
Service – we provide exceptional service to patients, their families and each other.
Innovation – we shape the future by innovating better ways to improve health.
Education – we are committed to teaching, research, continuous learning, and sharing what we learn.
Diversity– we value the unique needs and preferences of all individuals.
Stewardship – we hold ourselves accountable for managing resources responsibly.
Integrity – we demonstrate the highest standards of professionalism and personal responsibility.
Workplace – we create an outstanding work environment in order to recruit, develop, and retain talented clinicians and staff to enable Atrius Health to achieve our vision.
The Atrius Health philosophy ensures we are a thriving, leading-edge practice, recognized for amazing patient experience, improving health outcomes, providing a great experience for clinicians and staff, and decreasing the cost of care. Our philosophy is based on "six pillars" for providing long-term value.
Amazing Patient Experience – When patients interact with anyone in our organization, they should feel valued, respected, and cared for in a compassionate and supportive way that makes them want to come back to us if they need care or medical advice. A key to achieving this is through easy access to care.
Joy in the Practice – Joy in the Practice of medicine means freeing up time for patient care and work-life balance, ensuring the work that is done is high value-added, and that providers have choices that can make their work more meaningful.
Primary Care Foundation– Primary care clinicians and specialists must work well together to create a system that utilizes the strengths of both and where all feel respected and valued. However, a key point of Atrius Health's differentiation from hospital systems lies in its primary care foundation. Atrius Health relies on its ability to attract primary care patients to its primary care providers; these patients then take advantage of its complementary and integrated specialties and integrated VNA /Home Health and Hospice to provide further care.
Manage Population Health – Population health management is about developing systems of care for groups of patients based on their clinical needs.
Commitment to Excellence – There is a commitment to innovation and adopting best practices that makes Atrius Health a destination of choice for providers as well as patients. Atrius Health has an opportunity to adopt best practices and create more consistent programs, processes, and workflows across the practice to assure reliable care with very good outcomes.
Effective, Preferred Partnerships – Atrius Health has a proven ability to form effective, preferred partnerships with hospitals, health plans, skilled nursing facilities, outside specialists, pharmacies, technology vendors, community resources and others to deliver a true system of connected services to its patients.
You became a healthcare provider because you wanted to make a difference for your patients, their families, and their communities. At Atrius Health, you will have the opportunity to work in a patient-centered, team-based environment that will enable you to deliver convenient, accessible and coordinated care for:
Wellness and prevention
Treatment of acute illnesses and injuries
Chronic complex medical needs
Within our walls, Atrius Health offers robust primary and specialty care services, laboratory, imaging, pharmacy, physical therapy, procedural services, and more. We offer a weekend and after-hours telecommunications service that allows patients to be cared for by highly-trained advanced practice clinicians. We have also introduced home-based care services to prevent unnecessary emergency room visits and hospitalizations and are rapidly expanding our virtual care capabilities to include specialty e-consultations, teledermatology, and video visits for urgent care and behavioral health, with more programs in development.
An exciting career is waiting for you at Atrius Health. I hope you will join our team and create a healthier future for the residents of Massachusetts.
Senior Leadership
Christopher Andreoli, MD, MBA
President & Chief Executive Officer
Joe Kimura, MD, MPH
Chief Medical Officer
Sandra Reddington
CPO & Chief Strategy Deployment Officer
Patrick Holland
Chief Financial Officer
Daniel Moriarty
Chief Information Officer
Kimberly Nelson
Chief Legal Officer
Jane Connor, RN
Vice President of Ambulatory Care Services and Nursing
Executive Chairs
Claire Cronin, MD, MBA
Specialties
Kevin Fitzpatrick, MD
Obstetrics/Gynecology
Jane Fogg, MD, MPH
Internal Medicine
David Meenan, DO
Urgent Care
Rebecca Schwartz, MD
Ancillary Services
Daniel Slater, MD
Pediatrics
Clinical Leadership
Karim Awad, MD, MBA
Medical Director, Clinician Wellness
Peggy Chou, MD, MBA
Senior Medical Director, Medical Management and ACO Population Management
Anne Dixon, MD
Senior Medical Director, Clinical Affairs
Thomas Isaac, MD, MBA, MPH
Senior Medical Director, Quality, Safety and Patient Experience
Craig Monsen, MD, MS
Chief Medical Information Officer
Alan Weitberg, MD
Senior Medical Director, Academic Institute
Our providers deliver high-value care and seamless experiences for our patients by leveraging our highly integrated model of care. We have built local and national partnerships with many other healthcare organizations, technology partners and payers that help us advance these efforts. In particular, we would like to highlight two of our strategic collaborations, Blue Cross Blue Shield of Massachusetts and the Permanente Federation.
We are a 501(c)3 non-profit healthcare organization.
We are a physician-led organization, where there is a true physician voice in governance.
The Board of Trustees includes Atrius Health physicians.
Atrius Health physicians vote to select the Physician Trustees.
The Chair of the Board of Trustees is an Atrius Health physician.
Physician compensation models are determined by collaborative physician committees with representation from primary and specialty care clinicians.
Physicians serve in leadership positions across the organization.
How did we manage our response to COVID-19?
At Atrius Health, we utilize an Incident Command System which allows for an efficient approach to managing emergencies. The Incident Command Team, formally trained through FEMA, was assembled to manage the COVID-19 pandemic. As this emergency has spanned months, we have rotated staff and leaders into Incident Command Team positions to help us navigate through this crisis.
We are a large organization, but nimble enough to respond well to this crisis. Below highlights some practice transformations that occurred when the pandemic reached Massachusetts.
At Atrius Health, we quickly designated some of our practices as Respiratory Illness Centers of Excellence (RICE) and redirected non-respiratory urgent care to other sites.
In an effort to consolidate supplies and staff and build workflows to protect against the transmission of COVID-19, we temporarily closed a number of clinical sites. Providers and staff from those sites were redeployed to open sites and virtual care.
Our patients have access to care "24/7" through telecom and urgent care, which provides timely care and continuity for our patients. We added virtual care capabilities via video and in-person visits with our providers.
Atrius Health deployed almost 60 clinical staff to Boston Hope.
In recognition of the vast financial impact of the pandemic on healthcare, the Atrius Health management team built a rapid mitigation plan to manage cash reserves and mitigate potential losses. Supplemental funding was secured through a variety of governmental programs and grants, and available lines of credit were secured. Expenses were managed with vendors, insurers and partners. Operational resources and expenses were conserved and focused first on COVID-19 activities and the needs of acutely ill patients.
We initiated a number of drive-up testing sites in towns and cities throughout our practice region (specifically in Boston, Braintree, Chelmsford, Norwood, Peabody, Somerville and Wellesley) to ensure optimal access for our patients. Click Here
A majority of our interactions with patients initially occur in a non-face-to-face office visit format (e.g., phone calls, secure messaging, etc.). However, during COVID-19 we rapidly accelerated our virtual care offerings and greatly expanded our telemedicine capabilities. We are now offering video visits through every service line with real time access and are routinely performing thousands of video visits a day. We anticipate that our departments will continue offering virtual care options as part of our ongoing care model. Click Here
Our current focus
We are redesigning how we practice medicine with a focus on virtual care whenever appropriate. We will remain nimble and responsive to the evolving needs of our patients and the realities of this public health emergency.
Atrius Health will continue to provide the right care at the right time and place with an emphasis on virtual care embedded in our primary and specialty care departments.